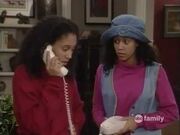 Cheater, Cheater is the fourth episode of the first season.
When Tia makes the school's Honor Roll, Tamera overhears Ray telling Lisa that if Tamera made the honor roll he'd tell the world about it. Tamera goes on a mission to try to ace a test and studies all night long. However getting so little sleep she cannot even remember anything. Tamera asks Tia to take her place for the test, Tia agrees but is soon caught. Now in trouble, Tia and Tamera try to make it home before Ray and Lisa to intercept the principal's phone call.
When the principal calls Tamera picks up the phone and sucessfully pretends to be Lisa. However as soon as Lisa turns home, a guilt ridden Tia loudly announces that they cheated. Tia is devasted about what happened whilst Tamera seems indifferent. Ray confronts Tamera on her attitude and she tells Ray what she heard in him saying about the honor role. Ray conforts her by saying that she has her own strengths and she should not worry about how she looks against Tia. She takes comfort from this. Tamera is grounded for 2 weeks whilst Tia is grounded for only 1. Both agree that that is fair as Tamera was on the one who talked Tia into cheating.
Both retake the test with Tia getting an A and Tamera getting a B.
Tamera Mowry as Tamera Campbell
Marques Houston as Roger Evans
This seems to be the cat "Little Ray's" debut, but in the last episode, Roger was asking why Little Ray could go to the slumber party and he couldn't while Lisa is sitting on the couch and petting the cat.
Tia and Tamera weren't even in the same classes, but in later episodes, they're always in the same classes?