Designer Genes
is the first episode of the fifth season.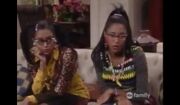 Lisa calls a local benefit fashion show and tries to persuade one of the designers to look at her portfolio. With false hope shes goes down there only to find that they wanted a fitter not a designer. Meanwhile Tia and Tamera try to win a date with Lucas Pain, but after they too fail they try to save Lisa's dreams. Tia and Tamera try to sneak backstage and show off Lisa's clothes.
Supermodel Beverly Peele appears as herself.
The outfits that Tia and Tamera wear at the end of this episode are also at the end of the the theme song video (when everybody is dancing).
Ray and Lisa breakup.