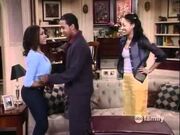 Fly Away Home is the finale episode of season six and the Sister, Sister series.
It is Lisa's wedding day and she is really nervous. So nervous in fact that she runs out of the church and goes to a bar and meets up with her past friend Foxy Jones. Ray later finds her at the bar and talks her into marrying Victor. At the wedding, the twins' old friend Roger Evans (special guest star Marques Houston) returns and sings for Lisa's wedding in a montage.
The girls and their parents return to the same store, with the same confusing results for the same sales clerk, where they found each other in Episode 1 of Season 1.
Lisa is mistaken for someone named Sandra twice during the episode. Actress Jackée Harry, who plays Lisa, won an Emmy award for her breakout role as the sexy vamp Sandra Clark in the 1980s sitcom 227.