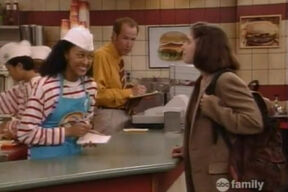 Rocket Burger is Tia and Tamera's first actual job (besides Ray's limo).
Besides being their workplace, Tia and Tamera frequently socialize at Rocket Burger, though only in earlier seasons.
Tia Landry
Denise
Roger Evans
Mr Woodman (Manager)
Mr 'Pops' Spooner (deceased assistant manager)
Mike
Pete
Known Items on the Menu:
Edit
Big Bang Burger and Jupiter sized Fries
Neptuna Melt
Saturn Onion Rings
Astro Apple Pie
Luna Lunch (Cod, Onion, Avacado and Bacon)
Chicken Fingers
Rocket Burger has both a ball pool and outdoor play area.
Tia, Tamera, and Roger, have all served, as assistant manager, at Rocket Burger. Mr Woodman gave Tia the position, following the death of Pops. She proves to be a competent assistant manager, but is fired by Woodman, after she takes the fall for Tamera, who locked up, and forget to close the freezer, ruining all the 'meat like patties'. Tamera is given the job, after, though is unpopular, as she does not help or pull her weight. She quits, after hearing that Tia took the fall for her. Roger was subsequently given the job.
Mangerial staff at Rocket Burger wear gold shirts, Pops even requested to be buried in his following his death.