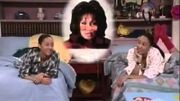 This is the second episode of the fourth season.
After an ugly encounter with last year's prom queen Rhonda, the twins start seeming insecure about their looks, and question Ray and Lisa about their birth parents. Meanwhile, Ray tries to think of a birthday gift for Lisa.
Tamera Mowry as Tamera Campbell
Rhonda was played by Larry Wrentz in this episode
Tia and Tamera's birth mom is named Racelle Gavin. She is later mentioned in season 6.
Marques Houston does not appear in this episode.